A lot of you have been messaging to ask if I have suggestions for how to use up mini skeins, or even scraps of yarn left over from projects, so I thought I'd put together a list of things I use mini skeins for.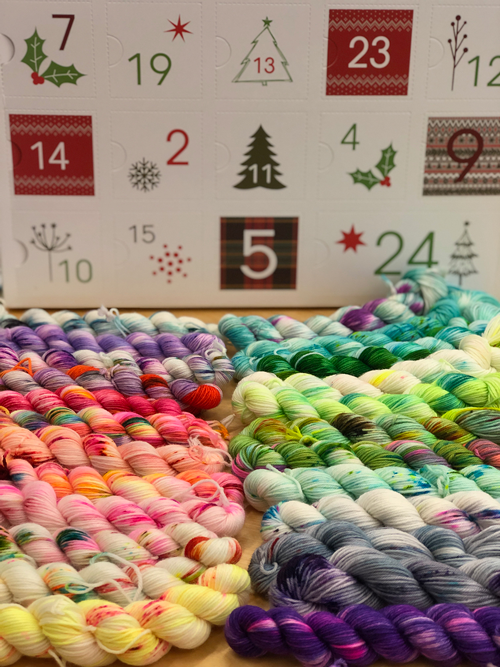 A mini skein is the perfect way to test out a colour way, its a nice affordable way to play with colour too. Most mini skeins are 20g, although you can also get what is known as a micro skein which is 10g, but on the whole a mini is predominantly 20g. So if that is sock weight your going to get on average around 80m per mini which is still a considerable amount of yarn.
For me mini skeins are like little sample pots, you get to play with all the colours without getting bored easily. I myself am planning a jumper using a pack of mini skeins to create a colourful yoke simply by changing mini skeins in stripes then going back to the main jumper colour. This is a clever way of mimicking colour work without actually having to do it, although I envy those people with stunning fair isle jumpers that they lovingly created, those can be a true work of art!
But here are some helpful uses for mini skeins I've used in the past.
Socks
One of my favourite ways to play with these little bursts of colour os as heels and cuffs on socks. They are perfect for adding that little extra something to a plain knit or crocheted sock. Just check out these fantastic socks that Karen Burnett knitted from our Sock It club, this club is designed especially to showcase different dye methods that work well for socks - here Karen used the 50g skein plus co-ordinating 20g mini for the cuff and heels.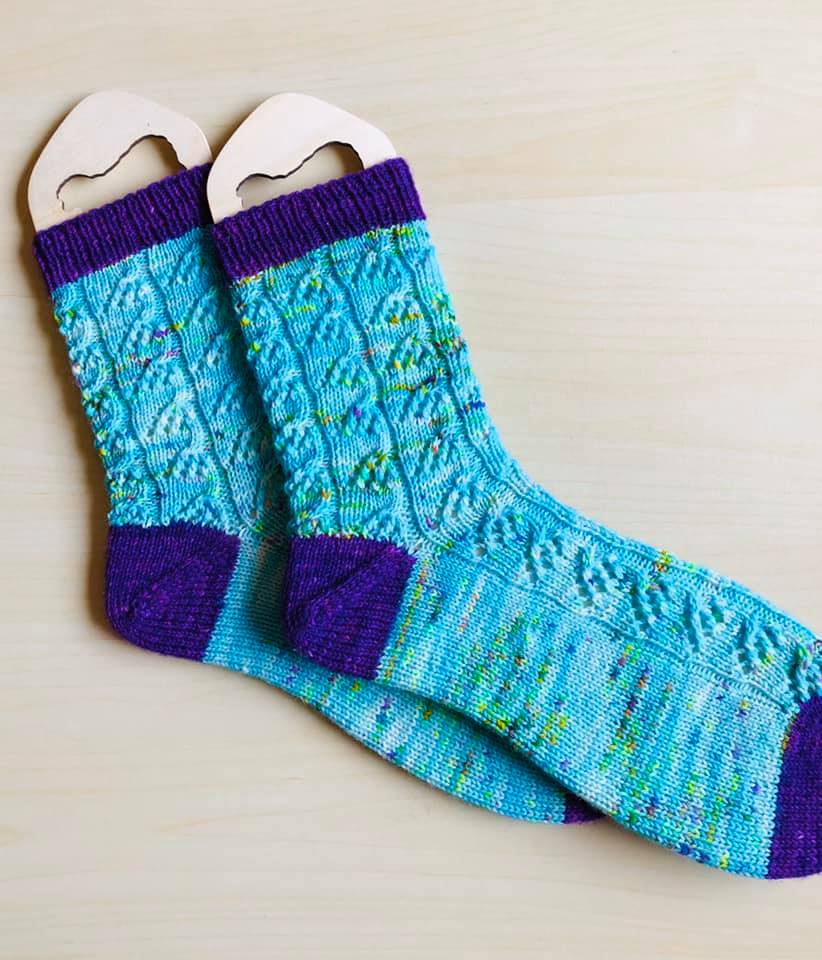 ©KarenBurnett
You can see lots of Karens amazing patterns in her Ravelry shop - https://www.ravelry.com/designers/karen-burnett
Now you don't have to just knit of course - crochet socks are a thing too - and yes it doesn't have to just be bed socks! Be sure to check out The Crochet Project for some gorgeous crochet sock patterns
©joannescrace The Crochet project
Blankets
Another fun thing to do with mini skeins is to make blanket squares, this works equally well for both knit and crochet.
I am very taken with the Bee Keepers Quilt making wee hexy puffs with all the colours sound really fun. the more colours the better I think. I like the idea that it is a stuffed blanket too, so squishy!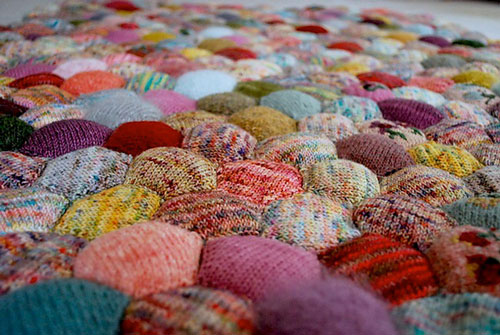 ©Tiny owl Knits
One of my lovely customers made this stunning blanket from last years advent box, this is a perfect way to showcase mini skeins, I particularly like when squares, or any shape motif is bordered with a neutral yarn to make the colours pop.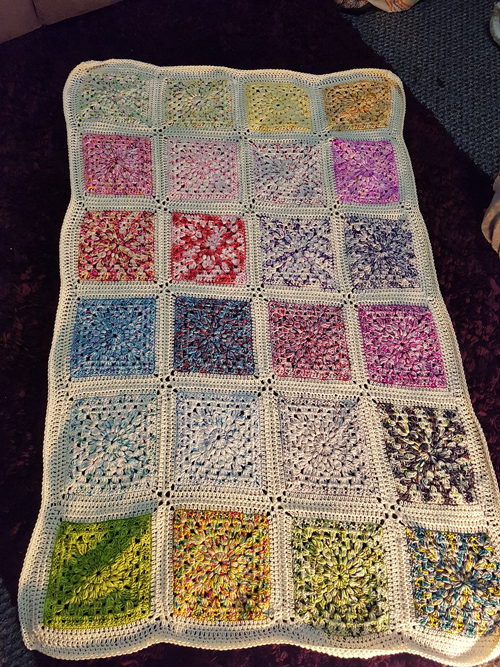 Be sure to check out the blog post I did for Blanket Club where I list my favourite blanket patterns, mini skeins can be used on nearly all those pattern suggestions as you just move to another colour once you run put of yarn, the perfect scrappy project too! Heres the link to that blog post: Blanket club pattern suggestions
Shawls
Another way to really showcase mini skeins is with this amazing pattern by my lovely friend Julie-ann, Julie-ann designed this wrap pattern specifically with mini skeins in mind and I absolutely love it. When I design the advent boxes each year I make sure that the colours blend well together and are designed to co-ordinate in one large project and this pattern showcases that to perfection.
Be sure to check out Julie-anns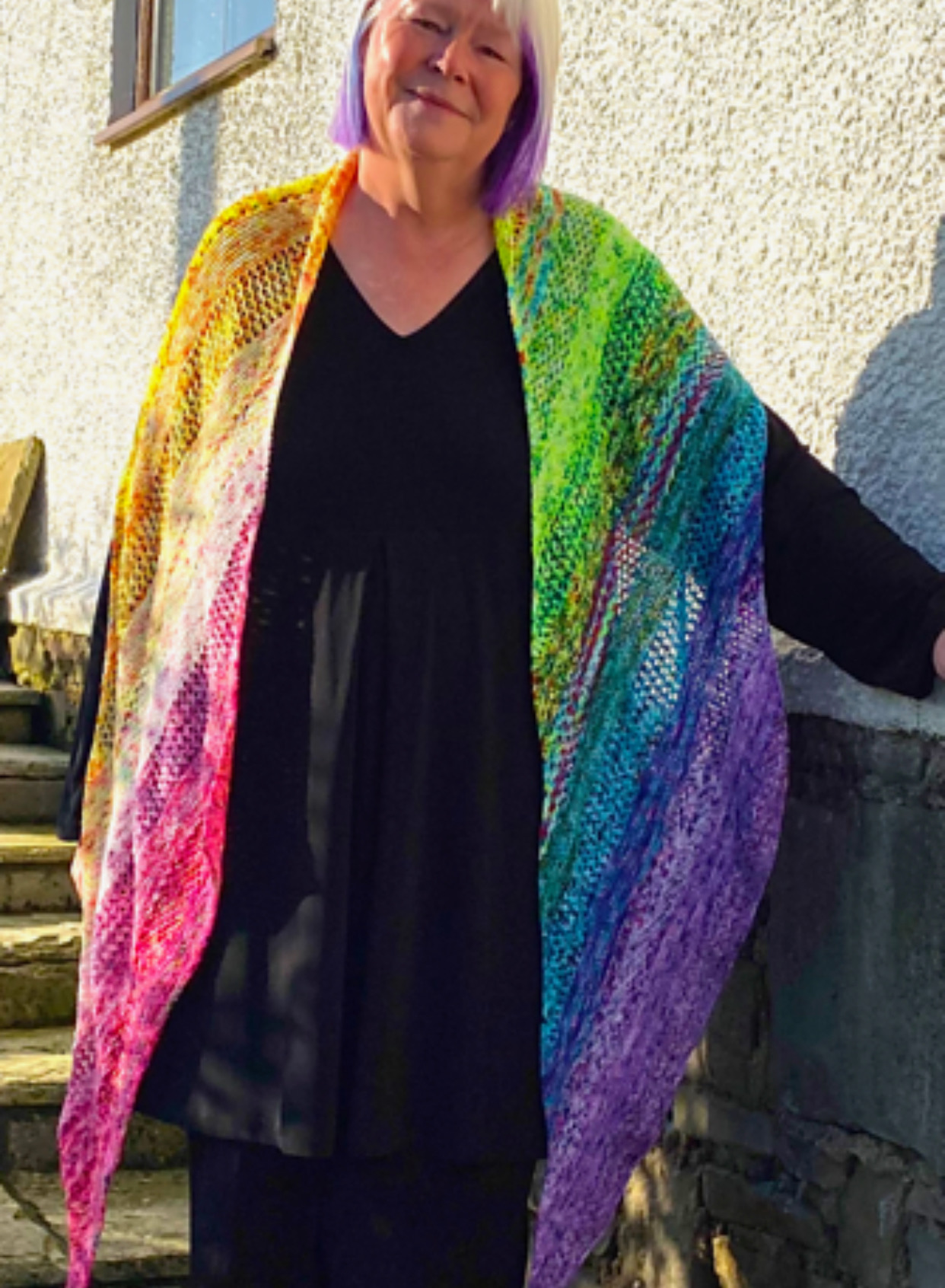 ©Julie-ann Amos
Alternatively why not try out the Improbability Shawl by the lovely Sealy MacWheely, Katie designed this glorious shawl using 100g of a main colour then she used a pack of 5 x 20g minis to showcase the stripes and I think its a fantastic way to showcase your favourite minis.
©SealyMacWheely
I designed the crochet shawl Pebbles on the Beach originally to showcase gradient yarns but then a customer used the pattern for her advent box and I was blown away by how amazing it looked, again mini skeins are approx 80m per skein if using sock weight so a good amount, perfect to blend from one skein to the next.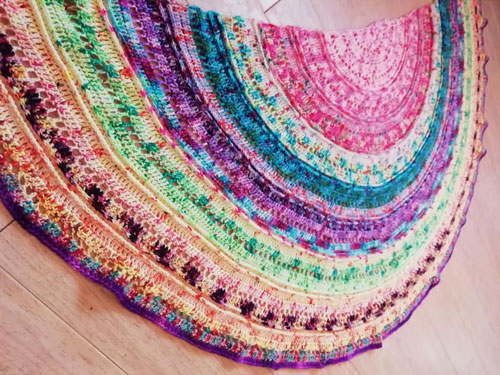 Shrug
Last but by no means least I also designed this simple Granny Shrug to showcase mini skeins, The full tutorial is on the blog explaining how to but it together, its extremely simple, its a large granny square and with a bit of magic with where you sew or crochet it together you create an oversized shrug. Perfect to throw on over any outfit, and you can use up all your scrap bits of yarn or mini skeins in a rainbow order, maybe you want to fade from one shade to another - this is the perfect project for this!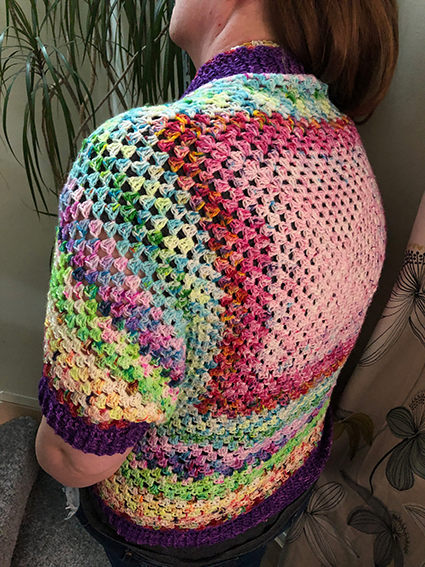 Mini skeins are extremely versatile and can be used for practically any project, at the end of the day they are still just yarn, they can be substituted into most patterns simply by adding enough of them to creat the meterage you want. Go have fun and be creative, that the joy of hand dyed yarns.
Enjoy, and don't be afraid to add pops of colour everywhere.
Love Lisa xx