What will YOU do with your blanket club box?
If you signed up to this years blanket club subscription box then you are in for a treat! I cant wait to get to the dye pots to dye up all the exciting things I have planned this year.
I decided to do things a little different this year, rather than have a specific pattern to follow I thought I'd compile a list of some of my go to favourites - so even if you didn't sign up to the subs box this post will still be of use to you... you might find a new pattern you haven't seen before!
Pictured - Blanket club month 1
Each of you in the subs club may receive more or less yarn, as there are different options I am going to base this list on what will work for the smallest box, which is 100g dk - 225m per month. Those of you who grabbed a bigger box, these patterns will still work for you, you will just get a lovely scrummy larger blanket!
So here is my list of go to old favourites, and I may have even found some new ones too!
1. Good ole Granny
Yes, yes, I know its been done a thousands times! But in all honesty I think a good granny stripe blanket should be a staple in any crochet closet. The pattern is lovely and simple, with a real repetitive flow, perfect for zoning out to of an evening. There are literally hundreds of tutorials out there for the granny stripe, but I first found it via the lovely Lucy of Attic 24, so I'm going to link you to her tutorial, mainly because Lucy has written a very detailed tutorial that covers everything you will need, but also because she is a lovely human and deserves the shout out, I first met Lucy at Yarndale the very first year when I was exhibiting, she stopped by my tiny stand to say hi, now my stand at yarn dale is 3 times as big and Lucy has a whole knit and natter lounge for herself!
2. Ride the wave
This pattern is a take on the granny stripe because again its a striped pattern but instead of clusters you are going up and down stitch heights to produce a stunning wave pattern - pair this with rows of cream and your blanket will really pop!
Instructions - like I previously explained there are numerous yarn size options available in this club so adjust your a starting chain to suit your desired width making sure your number is a multiple of 8+ 4 - but for the pattern sake I'm using a single bed size as a guide.
Ch 164.
Row 1: Working into the top loop only of each ch st: Dc in the 3rd ch from hook. Dc in the next ch. *Tr in the next 2 chs, dc in the next 2 chs, sc in the next 2 chs, dc in the next 2 chs*.
Repeat from * to * until you reach the end of the chain. If you have started with 164 chs, you will repeat the instructions 19 times, giving you 20 repeats in total. The last st of the last repeat should fall in the last foundation ch st. Ch 1 and turn (doesnt count as a stitch)
Row 2: Dc in the same st as the turning chain. Dc in the next dc. *Tr in the next 2 sc's, dc in the next 2 dc's, sc in the next 2 tr's, dc in the next 2 dc's*.
Repeat from * to * until you reach the end of the row. The last st of the last repeat should fall in the last dc, not in the turning chain. Ch 1, turn.
Repeat Row 2 till desired length or you run out of yarn.
Its that simple!
3. Leaping blocks and stripes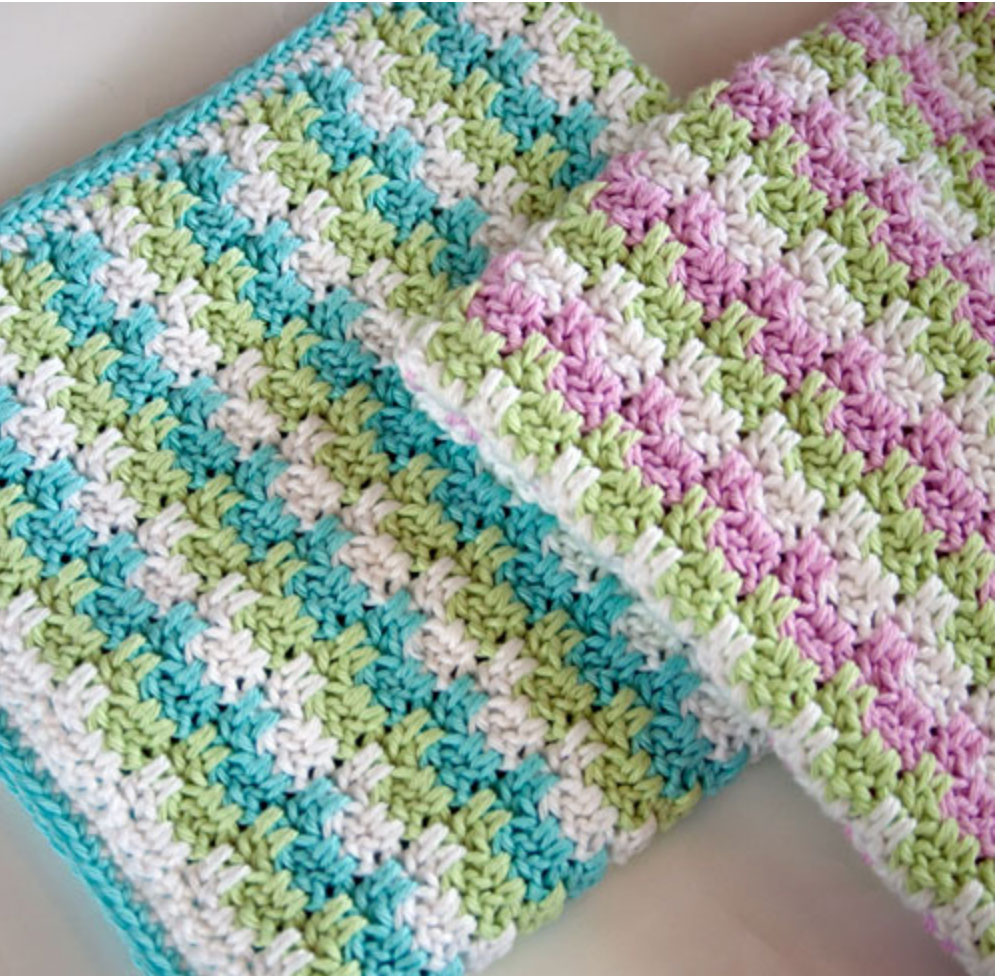 Photo credit Moogly
This blanket pattern I have used time and time again for the cherubs - its perfect for blending colours together! The subtle stitch that jumps to the row below is so simple but so effective!
Like I say I like to give credit where credit is due, I found this pattern many moons ago on Moogly - this is a fab crochet resource so if you haven't seen this blog before do pop along and check it out!
The perfectly detailed tutorial will certainly get you well on your way to a stunning blanket - go check it out here
So that is my top 3!
There are so many more pattern suggestions I. could give you but those are my three favourites.
Below I have compiled a small list of alternatives for you to go check out if none of my top choices float your boat!
Ok I think that is plenty to be going on with - I really can't wait to see what you come up with, if you follow one of these patterns or choose something entirely different! Don't forget to show me your progress over in the Facebook group www.facebook.com/groups/fortheloveofyarnigans so be sure to join if you haven't already.
Happy hooking folks
Love Lisa x