With the launch of the brand new 'Sock It' yarn club I thought it high time I got round to doing a round up of my favourite sock patterns!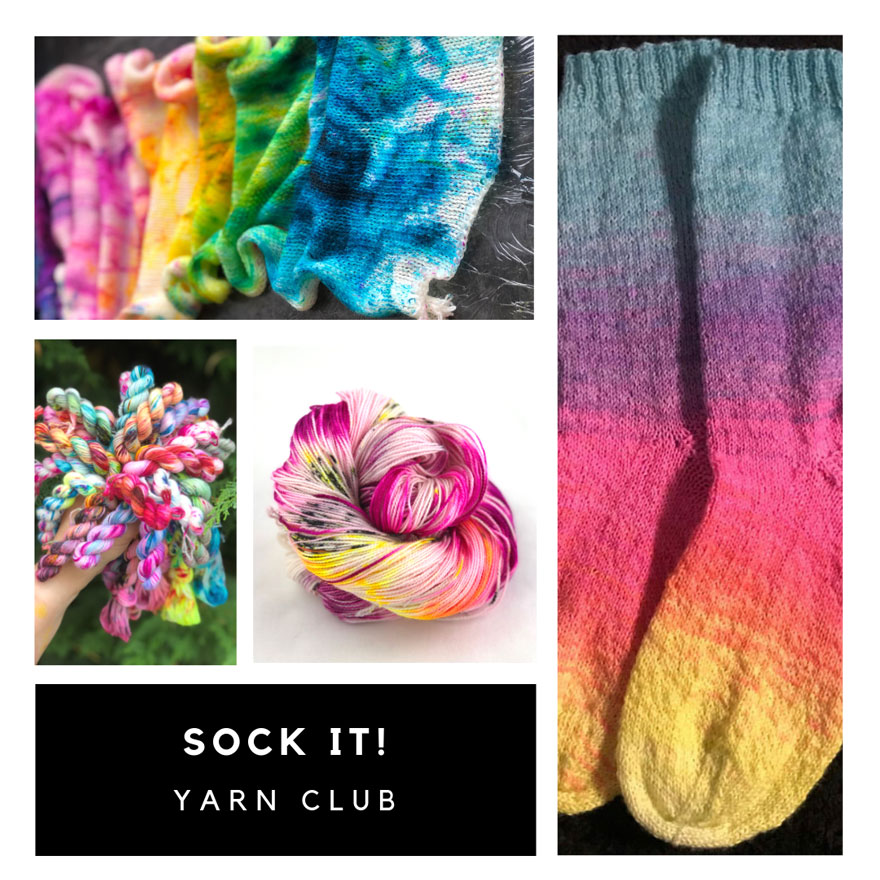 I am quite a simple person when it comes to socks - I don't go in for overly elaborate lacework or cables, my go to sock pattern is a very simple pattern that my lovely friend Michelle from The Loveliest Yarn Company shared with me many moons ago - basically entitled "Simply - The Simplest Socks"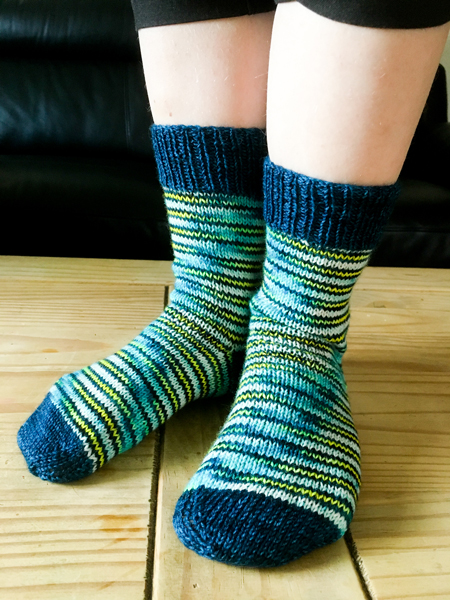 ©Lisa Harland
These socks were made for Callum using Michelles pattern :)
This pattern is perfect to showcase that special skein of yarn you have been saving because you can't decide what to make with it. The pattern itself is super easy to understand and is sized for tiny feet all the way up. Michelles patterns are really well written that I've never had an issue :) As the 'Sock It' club is designed to showcase the yarn and the dye technique I think this is the perfect pattern for just that!
Find it here: Simply the Simplest Socks
Next on my list is a little bit different - I love a short sock, for a few reasons, 1- I find them really comfy. 2- it uses less yarn. 3 - I'm far more likely to finish them and not suffer from single sock syndrome!
So with that in mind I quite often make Rose City Roller Socks. This is a free pattern available on Ravelry, by Mara Catherine Bryner and they are super quick to make! and best of all they don't use a lot of yarn so that precious skein you have been saving can make 2 pairs!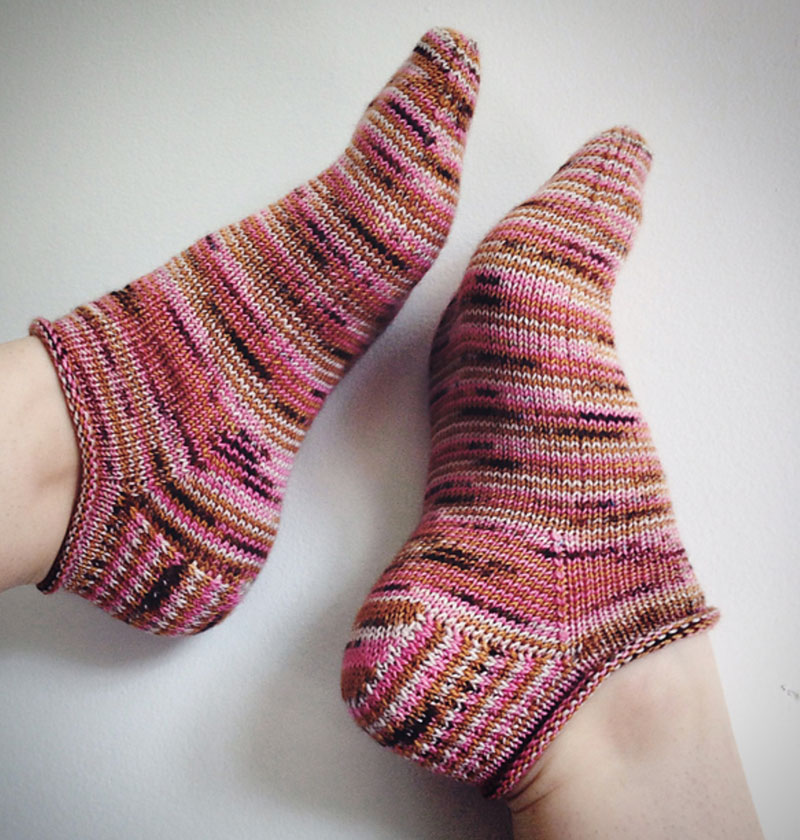 ©anamish
Find it here:Rose City Rollers
There are so many wonderful sock patterns out there that I could go on and on about my favourites but I thought it best to keep it to my top 3 knitted patterns, this one is a little more complex so aimed more at those of you who have knitting socks before and fancy a bit of a challenge and who are not afraid of a chart to follow.
My lovely friend Karen Burnett designed these socks entitled 'Twistle' and I think they are stunning! These socks are perfect for showcasing a lovely semi solid yarn to enable you to see the beautiful lace work. Karen is working on more sock designs and I personally can't wait to see them!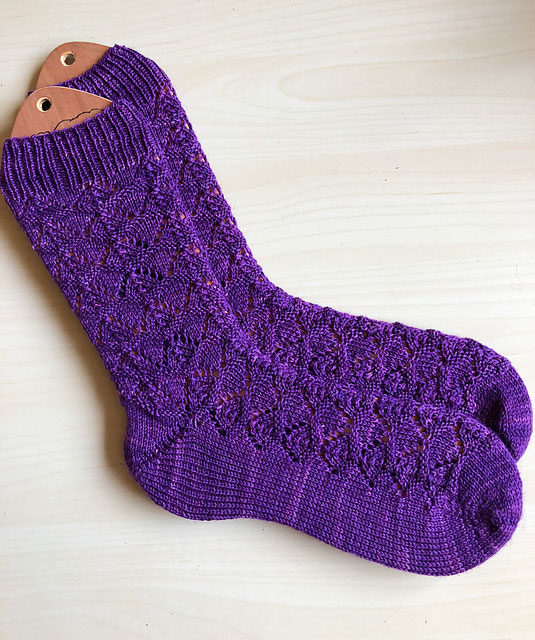 ©Karen Burnett
Find the pattern here: Twistle
There is of course the other side to sock making - Crochet socks! Yes folks you can indeed crochet socks! they are equally stunning as their knitted counterpart just maybe not as traditional. I get asked a lot if crochet socks are comfortable, and that question always confuses me - if a pattern is well written and designed then there is no reason why crochet socks wouldn't be just as comfortable as knitted ones.
My favourite crochet people in all the land is of course The Crochet Project - Kat and Joanne make an amazing team! they have brought crochet garment design into todays age - gone are the granny squares and tea cosies and have been replaced with raglan sweaters and stunning shawl designs to name but a few! That being said I do love me a good granny square but I won't be making a loo roll cover any time soon!
Kat and Joanne have a whole book dedicated to crochet accessories, in fact they have two I believe! There sock design Riley and Saunders is a pair of beautiful sock designs so yes two patterns for the price of one! - Riley is written for a traditional sock yarn whereas Saunders is written for aran or worsted weight yarn for a cosy boot or slipper sock.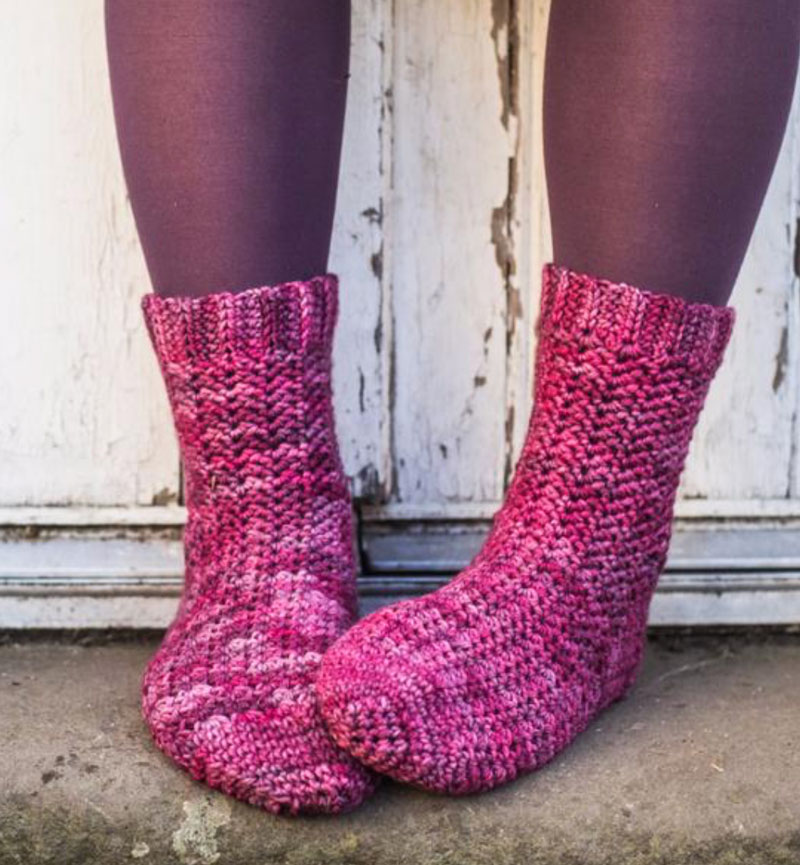 ©Kat Goldin
Find the pattern here: Riley and Saunders
There are so many more patterns I could share with you the list is endless but I hope these few patterns give you a starting point to go from!
Until next time - happy hooking, or in this case happy sock making!
Love Lisa