An English women, A Irish women, and Scottish Women, walk into a yarn shop...
Unless you have been living under a rock for the last 2 weeks you can't escape hearing about Black Friday…
A gratuitous day of fake deals and inbox spam… However we thought we'd so something a bit different…
My life over the last 35,789 days, or so it seems has been spent doing everything virtually, I mean who hasn't, a lot of which has been spent on zoom with two of my yarn besties – Michelle from The Loveliest Yarn Company/Banshee Yarns, and Abby of Luxury Yarns/Orchidean yarns We have been helping, supporting and coaching each other for several months. We are all small business owners which can be a lonely job at the best of times, but at least we had yarn shows to see each other and mix with other like minded souls. However with 2020 being the year of staying at home, I can honestly say without my weekly dose of sanity with these two, I would not have coped!
Roll forward – we have wanted to collaborate for some time and have been working out the logistics, and have decided that this will be the first of many.
So what exactly is #badassfriday?
It is a collaboration from all three of us, each of us have dyed a skein of yarn each and have added extra goodies into a fabulous giveaway. We plan to have collaborative lives across all of our social media platforms to showcase each of us individually but also as a trio. Working with both these amazing ladies is a true joy for me, I laughed when Michelle said "we are literally the English women, the Irish women and the Scots women...
So from Friday 27th until midnight on Monday 30th we will be offering a discount across all of our websites - 15% off (orders over £50 only). OK nothing startling or new there I hear you say… So here's where it gets interesting. Well you really have to see this giveaway box, its lush! I never use that word but this really is!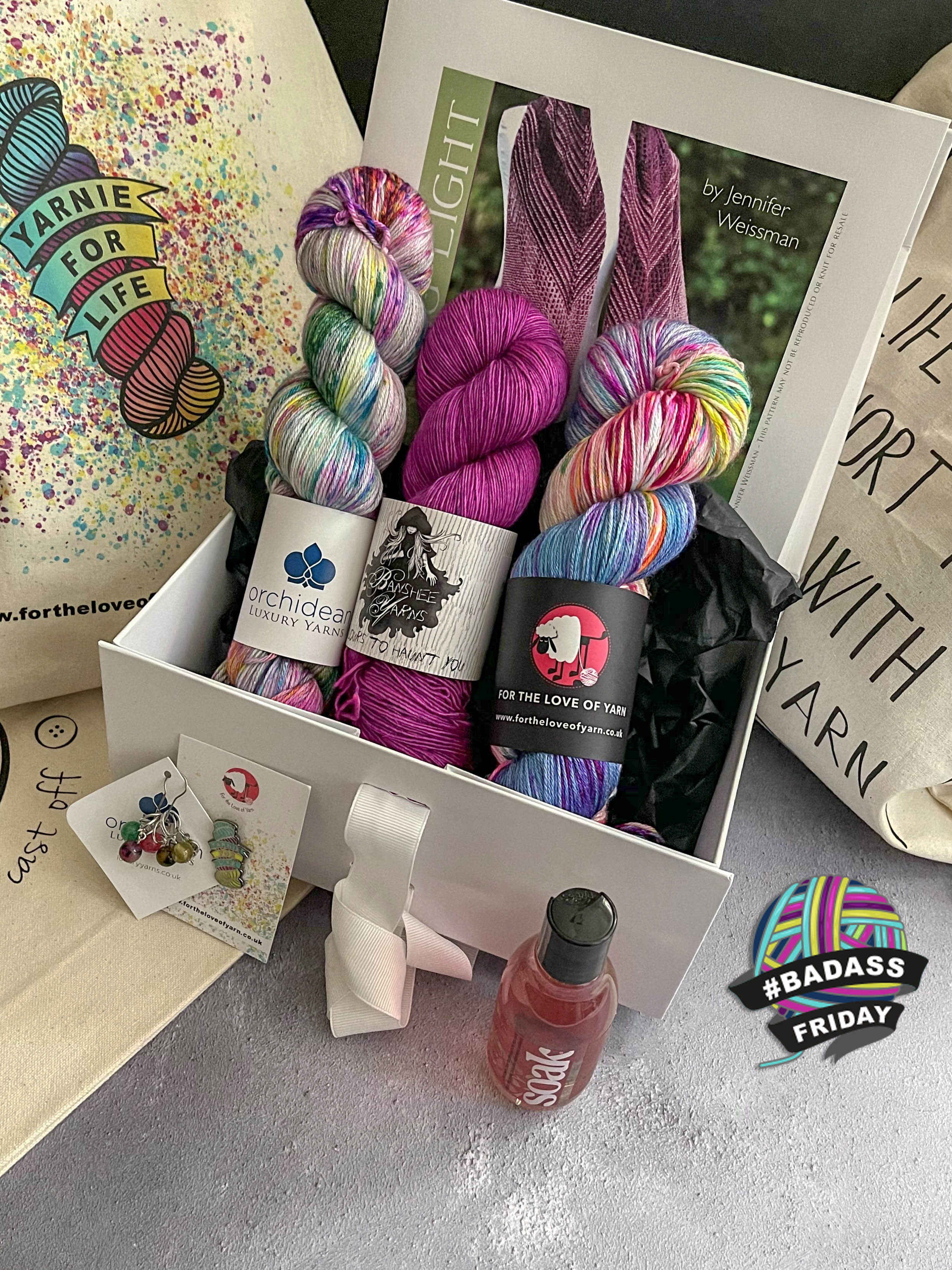 It includes:
A skein of hand dyed luxury yarn (merino and silk blend) from each of us
Markers and Project bags
Fading Light printed pattern
A bottle of Soak
Yarnie for Lif pin badge
One lucky person is going to win the whole kit!!
We have so many things planned for Badass Yarn lovers/dyers/amigos.... we are literally bursting with excitement to work together so please do join in, in a year where the high street is really struggling this is our way of adapting and pushing forward together... and you could win yarn! It cant e all that bad eh!
So here is the orange yet essential bit....ways you can enter the giveaway:
Buy something from us – every £10 spent (after discounts and excluding postage) will qualify as 1 entry.
Buy something from EACH of us for an extra entry (in addition to the ones earned in point 1)
Sign up to our mailing lists for an additional 3 entries.
We will put every entry into a numbered list and use a random number generator to pick the winner and we can do it live so you can see who gets to win the prize.
We will each go live on Friday to show you our various offers so make sure you keep an eye on our Insta and Facebook and follow #badassfriday
Giveaway terms and conditions
1. This is a giveaway being run by Michelle Gregory, Lisa Harland & Abby Parkes, hereafter referred to as 'the promoter' and 'we', on behalf of The Loveliest Yarn Company, For The Love of Yarn and Orchidean Luxury Yarns(the participating shops)
2. The giveaway is open to anyone aged 18 years or over
3. The routes to enter the giveaway are detailed here in these terms and conditions and in all promotions of the giveaway
4. The closing date for entry is November 30th, 11:59pm GMT. After this date no further entries will be accepted. There are no exceptions to this regardless of circumstances.
5. The rules of the competition and how to enter are as follows:
a. Receive one entry for each £10 spent (after discounts, before postage) with each of the participating shops between 00:01am Friday November 27th and 11:59pm Monday November 30th
b. Receive an additional entry for sign-up to the mailing lists of the participating shops. If you are already signed up, get in touch and you will receive an entry
c. Customers who purchase from all three participating shops will receive an additional entry
6. Prices at the participating shops have not been adjusted to include entry to this giveaway
7. Entry into the competition will be deemed as acceptance of these terms and conditions.
8. The prize is as follows
a. Three skeins of yarn, one each from The Loveliest Yarn Company (Banshee Yarns), For the Love of Yarn and Orchidean Luxury Yarns
b. Three tote bags one each from The Loveliest Yarn Company (Banshee Yarns), For the Love of Yarn and Orchidean Luxury Yarns
c. A Fading Light printed knitting pattern
d. A pin badge
e. Handmade stitch markers
9. The prize is as stated and no cash or other alternatives will be offered. The prizes are not transferable.
10. This contest is open to both United Kingdom and international participants. For international participants, we will not be responsible for taxes or duties incurred by the recipient
11. The winner will be chosen randomly using software from all of the valid entries received.
12. The winner will be notified by email within 14 days of the closing date. If the winner cannot be contacted or does not claim the prize within 14 days of notification, we reserve the right to withdraw the prize from the winner and pick a replacement winner.
13. For the purpose of ensuring that all entries are counted, firstname and email address will be shared between the participating shops. The data will be used only for this purpose and not any other. When choosing the winner, each entry will be allocated a code to provide anonymity when the data is gathered to determine the winner. Only the business through which the person entered will have their name and address details.
14. The winner's name will be shared on social media to announce the winner of the competition. No other personal detail will be shared about the winner. Should the winner choose to share pictures of their prize on social media, we will request permission to share any related images.
15. We reserve the right to cancel or amend the competition and these terms and conditions without notice for any event outside of out control. Any changes will be notified as soon as possible
16. Our decision in respect of all matters to do with the competition will be final and no correspondence will be entered into.
17. The competition and these terms and conditions will be governed by English law and any disputes will be subject to the exclusive jurisdiction of the courts of England.
18. This giveaway is in no way sponsored, endorsed or administered by, or associated with Facebook or Instagram.